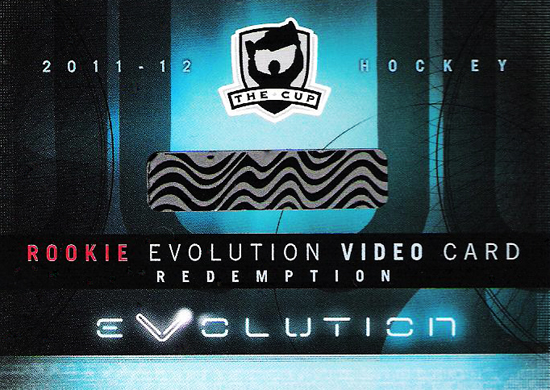 Special "Rookie Evolution Video Cards" are included in the new 2011-12 The Cup hockey brand, released last week on Sep. 11, 2012. Okay, so technically it is the redemption cards that are seeded in packs, but nevertheless collectors will be looking forward to adding these unique cards to their collection.
"These cards are the next 'evolution' of the Evolution video cards," wrote Chris Carlin in the Upper Deck Blog. "Their construction and design will be drastically different than other video cards that the Upper Deck Co. has previously released."
In all, there are 12 different players featured in the set, all of whom attended last year's 2011 NHLPA Rookie Showcase. The 12 players are Adam Henrique, Brett Connolly, Blake Geoffrion, Brendan Smith, Cody Eakin, Gabriel Landeskog, Jake Gardiner, Mika Zibanejad, Ryan Ellis, Ryan Nugent-Hopkins, Simon Despres and Zack Kassian.
"The cards feature content that is exclusive to these Rookie Evolution video cards. We were able to capture some amazing video footage that we think collectors will very much enjoy.
"Since the cards have a premium new construction, design and exclusive video content, we felt they belonged in our premium release of the year: 2011-12 The Cup."
Only the redemption cards are included in the actual packs of 2011-12 The Cup. Wrote Carlin, he expects that the actual video cards will be, "completed a few weeks down the road".