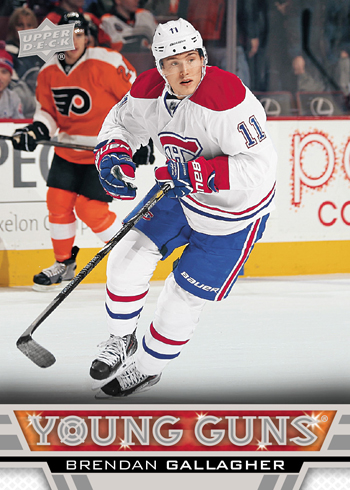 The Upper Deck Company has revealed the Young Guns player checklist for 2013-14 Upper Deck Series Two. The 50-card Young Guns checklist features 49 players plus a three-player checklist card.
"We are sure fans will be very excited when they get to experience the 2013-14 NHL Upper Deck Series Two product for themselves, but we wanted to provide a snapshot of which rookies made the cut for this season and give fans a glimpse at some of the cards to hunt," wrote Chris Carlin via the Upper Deck Blog.
Upper Deck Series Two continues where the first series left off in November 2013. There were also 50 Young Guns in Upper Deck Series One.
This year marks the 24th annual edition of Upper Deck hockey cards, the longest running series in the hockey collector marketplace. The first series was released in early November, shortly before the Fall edition of the Sportcard & Memorabilia Expo.
---
UPPER DECK YOUNG GUNS
451 NASH Filip Forsberg
452 NYRA Dylan McIlrath
453 MONT Michael Bournival
454 COLO Michael Sgarbossa
455 EDMO Martin Marincin
456 BOST Ryan Spooner
457 BUFF Mark Pysyk
458 SANJ Freddie Hamilton
459 VANC Joacim Eriksson
460 MONT Christian Thomas
461 CALG Reto Berra
462 ANAH Frederik Andersen
463 EDMO Mark Arcobello
464 NEWJ Jon Merrill
465 LOSA Linden Vey
466 DETR Petr Mrazek
467 WASH Philipp Grubauer
468 NASH Marek Mazanec
469 CARO Elias Lindholm
470 FLOR Aleksander Barkov
471 BUFF Nikita Zadorov
472 NASH Taylor Beck
473 DALL Jack Campbell
474 MINW Mikael Granlund
475 OTTA Cody Ceci
476 DETR Tomas Jurco
477 MONT Brendan Gallagher
478 MONT Jarred Tinordi
479 TORO Josh Leivo
480 ANAH Rickard Rakell
481 TAMP Ondrej Palat
482 NYRA Ryan Strome
483 TAMP Nikita Kucherov
484 NEWJ Reid Boucher
485 LOSA Martin Jones
486 ANAH John Gibson
487 CHIC Antti Raanta
488 FLOR Nick Bjugstad
489 PHIL Scott Laughton
490 DALL Antoine Roussel
491 NYIS Thomas Hickey
492 TAMP Tyler Johnson
493 PHOE Connor Murphy
494 CALG Max Reinhart
495 VANC Jordan Schroeder
496 SANJ Matthew Irwin
497 TORO Jerry D'Amigo
498 LOSA Tanner Pearson
499 ANAH Hampus Lindholm
500 Gallagher/Mrazek/Barkov CL