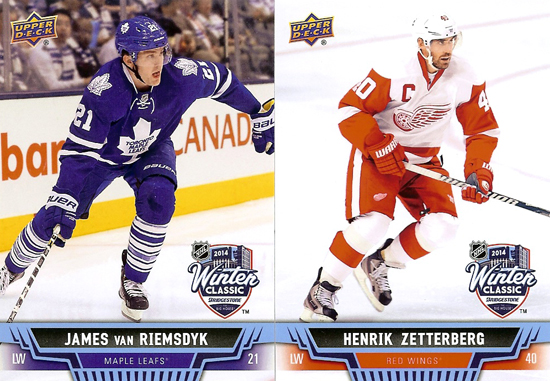 The Upper Deck Company has unveiled details for a 20-player hockey card set that will be distributed free at the 2014 NHL Winter Classic in Detroit, the outdoor hockey game that will put the Red Wings against the Toronto Maple Leafs. The 2013-14 Upper Deck Winter Classic set features 10 Red Wings (cards WC1-10) and 10 Maple Leafs (cards WC11-20).
"Every fan in attendance will receive a free pack of these cards," wrote Chris Carlin via the Upper Deck Blog. "Upper Deck will have a booth set up at the venue where fans can score more packs to trade in order to complete the entire set.
"It won't just be about trading at Upper Deck's booth as fans will have the opportunity to get their very own personalized Upper Deck trading card produced at the venue for free! Get to the Big House early so you can score some of these awesome collectibles!"
Of course, these Upper Deck Winter Classic cards will feature photos from regular season and/or playoff action. Card collectors can expect images from the outdoor 2014 Winter Classic game in future hockey card sets, a tradition that dates back to the first Winter Classic in 2008. That year, the Upper Deck Company included "Winter Classic" inserts in 2008-09 O-Pee-Chee, Upper Deck and Upper Deck MVP.
Two years ago, Panini America produced a 2011-12 Pinnacle Winter Classic hockey card series for the Flyers-Rangers game in Philadelphia.
The 2014 Winter Classic is Jan. 1, 2014.