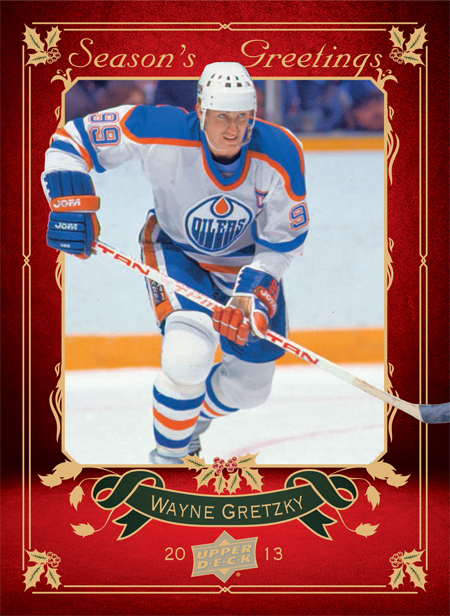 The Upper Deck Company has produced a new Season's Greetings card for the 2013 holiday season. Now a holiday tradition for a couple of decades, the 2013 oversize card features long-time company spokesman Wayne Gretzky.
"One of the fun parts of being a trading card company is creating custom cards from time to time to share with partners, vendors and fans," wrote Chris Carlin via the Upper Deck Blog just after Christmas. "Such is the case almost every year with Upper Deck's holiday cards. For decades Upper Deck has made a practice of creating some unique holiday cards and this year is no different. Upper Deck recently sent out a few hundred special holiday cards featuring the company's exclusive hockey spokesman Wayne Gretzky."
The 2013 Upper Deck Season's Greetings card features an action shot of Gretzky wearing his familiar no.99 Oilers jersey from the 1980s.
Over the years, the Upper Deck holiday cards have featured different athletes from different sports, be it Reggie Jackson, Babe Ruth, Kobe Bryant, Kevin Garnett, Tiger Woods, or Santa Claus. In 2005, the holiday card featured then NHL rookie Sidney Crosby.