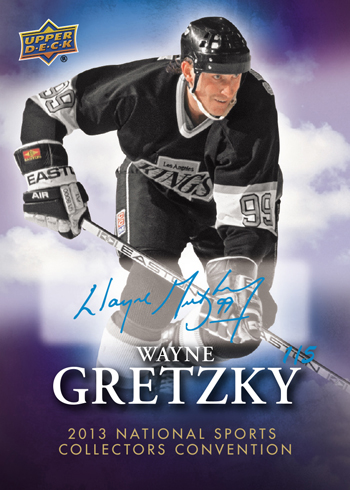 The Upper Deck Company will again produce a series of picture cards that will distributed to collectors at the National Sports Collectors Convention. This year's show takes place in Chicago from July 31 to August 4, 2013.
The card set will feature athletes from several different sports, including hockey stars Wayne Gretzky, Patrick Kane and Jonathan Toews. A different pack of cards will be distributed each day (with full details posted via the Upper Deck Blog).
NATIONAL SPORTS COLLECTORS CONVENTION SCHEDULE
WEDNESDAY (VIP): Gretzky, Toews (as well as Michael Jordan, Tiger Woods, Frank Thomas and LeBron James)
THURSDAY: Toews (as well as Rory McIlroy, Mark McGwire, Troy Glaus and Cheyenne Woods)
FRIDAY: Gretzky (as well as LeBron James, Tony Cingrani, Tony Gwynn and Brandon Saad)
SATURDAY: Bobby Hull (as well as Tiger Woods, Reggie Jackson, Pete Incaviglia and Ken Griffey Jr.)
SUNDAY: Patrick Kane (as well as Michael Jordan, Frank Thomas, Darryl Strawberry and Jim Abbott)
Along with the base cards, rare autograph cards will be seeded in packs.