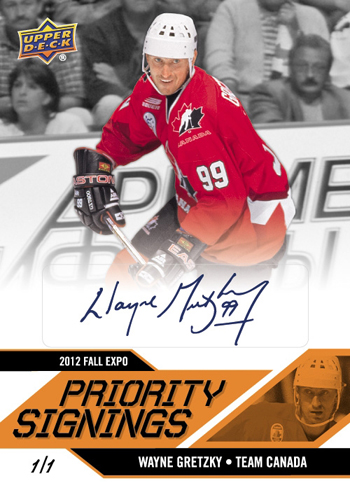 The Upper Deck Company has confirmed that Upper Deck Priority Signings redemption cards will again be issued at the Fall Sportcard & Memorabilia Expo this Nov. 9-11.
"The Priority Signing wrapper redemption program will return," wrote Chris Carlin via the Upper Deck Blog. "Fans in attendance who purchase a hobby hockey box of 2012-13 O-Pee Chee, 2012-13 Upper Deck Artifacts or 2012-13 Upper Deck Series One from a Certified Diamond Dealer at the show will receive a voucher. They can bring that voucher to the Upper Deck booth at specified times where they can exchange it, along with the wrappers from the box for a random 2012 NHL Priority Signings autograph card for free!"
The Upper Deck Priority Signings have been a staple at the Sportcard & Memorabilia Expo since 2003-04.
Fans can redeem the vouchers on Friday from 5-7pm, on Saturday from 10am-noon, and Sunday from 11am-1pm.
"The checklist for the Fall Expo is strong with players like Alexander Ovechkin, Sidney Crosby, Carey Price and Ryan Nugent-Hopkins adding their signatures to the set. You can also find autographs from retired stars like Bobby Orr, Jean Béliveau, Mario Lemieux and Wayne Gretzky in the 2012 NHL Priority Signings set. There will also be rare variations of some of the top players in the set as we have done in years prior to add a higher level of collectability, but all cards will be limited to just 75 copies or less."
ABOUT THE SPORTCARD & MEMORABILIA EXPO
This year's Fall 2012 Sportcard & Memorabilia Expo runs Nov. 9-11 at the Toronto International Centre in Mississauga, ON (just a few kilometres away from the Toronto Pearson International Airport). The show is billed as North America's largest hockey collector's show. For more information on the show, please visit sportcardexpo.com.