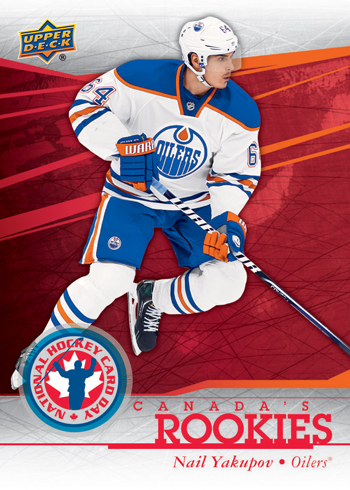 The annual free hockey cards day is just one week away: the Upper Deck Company's 2013-14 National Hockey Card Day runs Jan. 18 at sports collector stores in Canada and USA. Hockey fans can get free hockey cards by simply showing up to one of the Certified Diamond Dealer stores in their area.
"There are a number of ways to take part in the promotion," wrote Chris Carlin this week via the Upper Deck Blog. "The easiest is a visit to your local card shop. There is an updated list of shops participating on the National Hockey Card Day website."
In his recent Upper Deck Blog post, Carlin provided collectors with a couple of behind-the-scenes production videos for the 2013-14 series. He also announced that there will be special multi-player card sheets distributed free at retail locations in Canada (London Drugs, Toys 'R Us and the Hockey Hall of Fame). There are five different eight-card sheets to collect. In the United States, the multi-player card sheet will be distributed at the New York Islanders home game.
This year marks the sixth edition of Upper Deck's National Hockey Card Day, albeit the third with unique sets for Canadian and American markets. Each 2013-14 series features 20 basic cards plus one from-behind-the-counter bonus card. Cards 1-20 are available in packs while card 21 (the bonus) is available as a gift when $10 or more is spent at the collector shop.
---
2012-13 Upper Deck National Hockey Card Day (with music)

2010-11 Upper Deck National Hockey Card Day