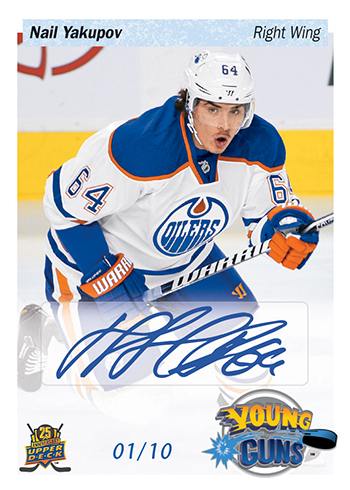 The Upper Deck Company has previewed images from the new 2014-15 Upper Deck Priority Signings hockey card set. The signature cards will be distributed next month at the Sportcard & Memorabilia Expo in Mississauga, ON.
Wrote Chris Carlin via the Upper Deck Blog, "Twice a year Upper Deck attends this fan friendly show to spend time with die-hard NHL® collectors, some of whom travel all the way from Europe to attend the show. It is important for us to say, "Thank you," to our collectors both personally and with great promotions and giveaways. And for our 25th Anniversary, you better believe we are going all out to provide some great programs for our fans!"
Indeed, this year's Upper Deck Priority Signings will feature the classic 1990-91 hockey card design. There will be both white-border signature cards and black-border signature cards.
To collect these signature cards, collectors must open boxes of 2014-15 Upper Deck Series One hockey cards at the Upper Deck booth at the Sportcard & Memorabilia Expo. Wrote Carlin, "Fans can bring select new boxes to Upper Deck's booth that are purchased from authorized dealers at the show to get one random Priority Signings autograph card for FREE."
ABOUT THE SPORTCARD & MEMORABILIA EXPO
This year's Fall 2014 Sportcard & Memorabilia Expo runs Nov. 7-9 at the Toronto International Centre in Mississauga, ON (just a few kilometres away from the Toronto Pearson International Airport). The show is billed as North America's largest hockey collector's show. For more information on the show, please visit sportcardexpo.com.