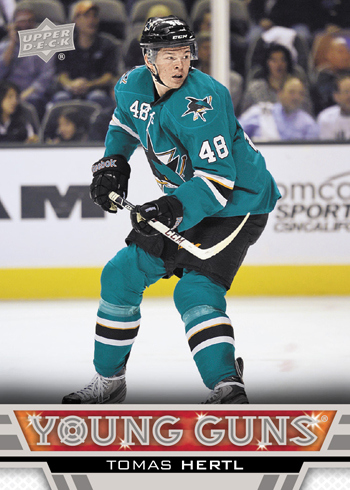 If you haven't heard of him yet, ask your local collector store about him come the end of this week after the new 2013-14 hockey card sets get released.
If you have heard of him, don't worry, the release of Hertl's 2013-14 rookie cards are indeed just days away.
A four-goal rookie legend in week two of the new campaign, the San Jose Sharks' rookie is sure to be a prized pull when 2013-14 Select and 2013-14 Upper Deck cards are released this week in advance of the Fall 2013 Sportcard & Memorabilia Expo
As of Nov. 1, Hertl leads all NHL rookies with eight goals and 11 points in 13 games. Drafted 17th overall in the 2012 NHL Entry Draft, the Czech-born forward made his debut on Oct. 3. He was named NHL Rookie of the Month for October 2013.
According to NHL.com, other key rookies from the first month of the new season were Sean Monahan (Calgary Flames), Mark Arcobello (Edmonton Oilers), Alex Chiasson (Dallas Stars), Seth Jones (Nashville Predators), and Frederik Andersen (Anaheim Ducks).