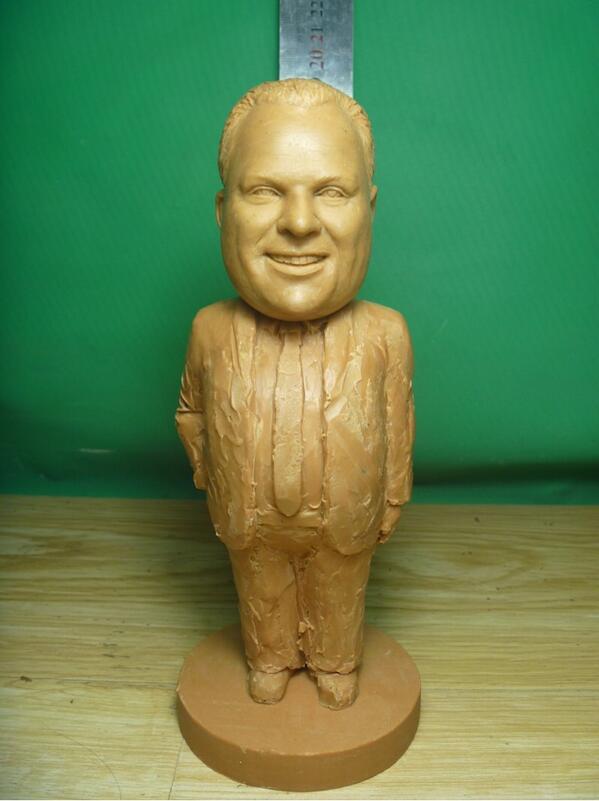 THEY SHOULD MAKE THAT INTO A HOCKEY CARD • Love him or hate him, Mayor Rob Ford from the City of Toronto is one of the most recognizable personalities in Canada.
Recently, that so-called "star power" was turned into a collectible: twice over a six-week period, "fans" chased Rob Ford bobbles produced by Bobbleheads Canada, "a small Canadian business with a big heart." The bobbles are made with "strong and durable Poly Resin material for both the head and body."
The first (blue tie) edition was released in November while second (red tie) edition was released in December. Both editions sold quickly (with proceeds benefiting charity).
So if they can make (and sell out) of Rob Ford bobble heads, I am sure they could make (and sell) Rob Ford picture cards, too.
Of course, as a controversial figure, any card company (sports or entertainment) would have to think twice (or hard) before producing a Ford card. It is one thing to produce a stand-alone Ford card for promotional distribution, it is another thing to include him in a series of hockey, football or movie stars.
Then again, any Ford collectible would be sure to capture headlines well beyond his City of Toronto limits.
2nd Edition #RobFord bobbleheads being sold at #Toronto City Hall this Friday. Proceeds for the Canadian Cancer Society #RobFordBobblehead

— Bobbleheads Canada (@bobbleheadcan) December 19, 2013