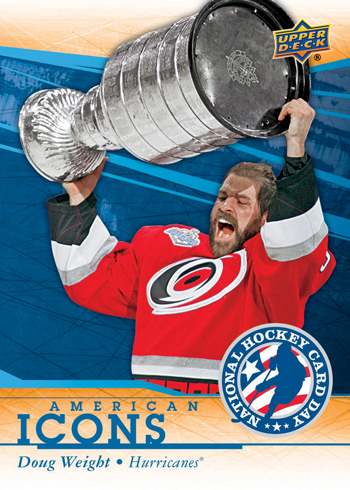 The sixth edition of the Upper Deck Company's annual National Hockey Card Day is just six weeks away. The annual "freebie" is scheduled for Jan. 18, 2014 in both Canada and USA, with unique hockey card sets prepared for either side of the border.
"Upper Deck believes strongly in giving back to the fans who support the company's NHL releases by working in cooperation with our network of Certified Diamond Dealers to provide FREE packs through this annual event," wrote Chris Carlin via the Upper Deck Blog. "National Hockey Card Day in Canada and the USA returns on January 18, 2014 to the delight of hockey fans across all of North America. By simply visiting a participating retailer on that day, puck fans in Canada and the United States can score a pack of Upper Deck's National Hockey Card Day cards absolutely FREE, while supplies last!"
Each series features 20 basic cards plus one from-behind-the-counter bonus card. Cards 1-20 are available in packs while card 21 (the bonus) is available as a gift when $10 or more is spent at the collector shop.
As in past years, the product will also include "surprise autograph inserts." The USA set checklist carries an American theme while the Canada checklist carries a Canadian theme.
"Upper Deck will randomly insert limited-edition autograph cards for a handful of the players in the set," wrote Carlin. "These rare authentic signed cards create a lot of excitement when pulled from these free packs each year. Upper Deck has a tradition of keeping the identity of players included in that set secret until just prior to the event date, so be sure to check back for details."
Also as was the case in 2013, a series of large (oversize) cards will be available at larger retailers (as well as "the Hockey Hall of Fame and a limited number of hockey arenas").