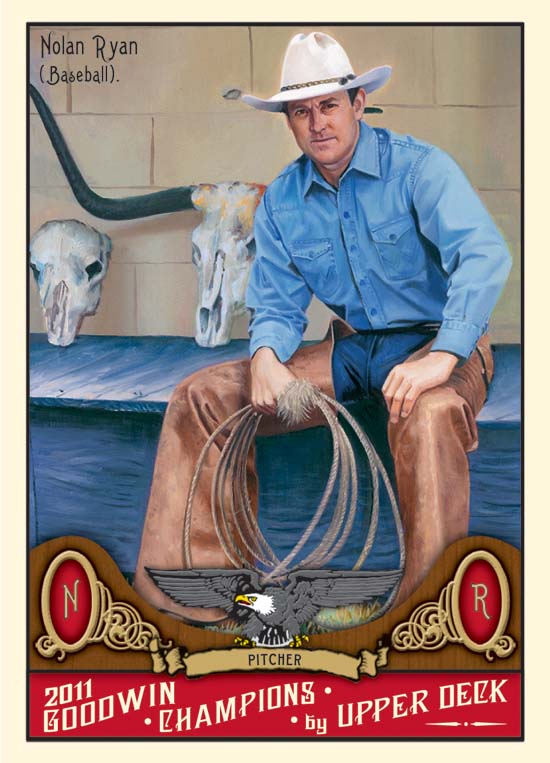 BY THE BOX • 2011 GOODWIN CHAMPIONS by UPPER DECK
Visit the product information page for 2011 Goodwin Champions
Goodwin Champions has a little bit of everything for everyone… that is, a little bit of hockey, baseball, football, football (soccer), basketball, golf, boxing, lacrosse, swimming, athletics… you get the picture, a little bit of it all.
Actually, I should have written "you get the painting." Cards in this series feature paintings, not photographs, which is a good thing considering the scope of athletes and historical figures depicted from 1-210 in standard size and 211-231 in the miniature size. (Note – cards 1-150 are also featured in the miniature size; all miniature cards are available in several parallel variations).
Actually, there are more than just athletes and historical figures in this set. In fact, the first card you will pull from your box features neither one: it is an oversize "World Traveler" card featuring some great place in the world, be it the Great Wall of China or the Amazon Forest.
The other "non-human" cards are the Animal Kingdom patches (noted as "rare" on the box) and the "extraordinary" Entomology bug cards. Yeah, the patch cards are in fact patch paintings of rare and endangered animals, but the Entomology cards truly have bugs in them. Dead bugs, of course.
Basic (standard size) inserts are Goodwin Citizens and Figures of Sport. Other special inserts are autograph cards, memorabilia cards, Museum Collection Relics, scarce Goodwin Masterpieces, and even Thoroughbred Hair Cuts.
Collectors will find an average of three memorabilia "hits" in every hobby box of 2011-12 Upper Deck Artifacts. A "hit" is hobby-talk for a special insert; the better the insert, the better the "hit." True to word, we found three such memorabilia hits in our 10-pack box: two dual jersey cards and one dual patch card. You will find an average of three "special" cards in every box, be it the autograph, memorabilia, patch or printing plates.
The Upper Deck Company released 2011 Goodwin Champions in July 2011. There are five cards in each pack, with 20 packs in each box. We found just over half of the 150-card shell set in our one box. Of those 76 cards, 14 of them (18%) featured hockey players.
BY THE BOX: 20 packs of 2011 Goodwin Champions

• 76 cards from the 150-card shell set
• 6 blue short prints, 2 black short prints, 1 mini short prints
• 6 mini cards from the 150-card bonus set
• 3 black Lady Luck parallel mini cards
• one Goodwin Citizens, one Figures of Sport
• one Memorabilia card
• one Autographed card
• one Animal Kingdom patch card
• one World Traveler oversize card