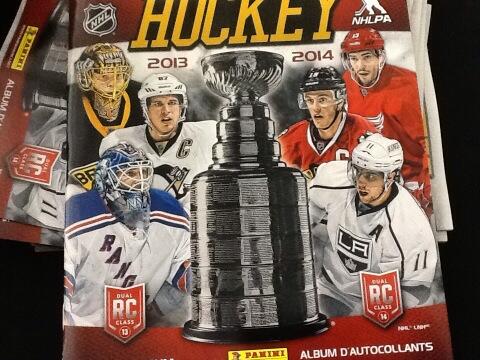 Collecting Panini stickers has been an annual collecting tradition for more than 50 years – in more than one sport. The Panini NHL Collection, now in its 23rd year, will surely impress both the seasoned collector and the youngest hockey fan in your house.
The 2013-14 Panini NHL Collection features a 72-page album and 388 spaces to fill. The album includes 10 free stickers to start your collection after which you will find seven more stickers in every pack you purchase. There are 50 packs in a sealed box of Panini NHL Stickers.
As you will discover in your first pack, there are two ways to assemble this year's collection: the traditional route or the digital route. The traditional route is, of course, the album and stickers. The digital route assembles your collection online via nhl.paninidigitalcollection.com (with the code for a new 'digital' pack included in each real pack).
When it comes to the traditional collection, the first piece to your collection should be the album. This year, Panini produced different covers for the American and Canadian markets. The American cover features six players while the Canadian cover features seven players, with both designs highlighted by a centered Stanley Cup graphic.
In the album, there are two-page spreads for each of the 30 NHL teams, with the Eastern Conference teams organised first (pages 8-39) followed by the Western Conference teams organised next (pages 40-67). Other album subsets are playoff action, rookies and award winners.
Per the rookie subset, the 2013-14 NHL series features the best rookies from the past season, including Calder Trophy winner Jonathan Huberdeau and 2012 first-overall selection Nail Yakupov. The 2013-14 set was released early in the season, so the new rookies could not be included.
Panini did, however, manage to include some key off-season team changes. Cory Schneider is still pictured with the Canucks, but he is featured with a Devils' logo and positioned in the album's two-page spread for the Devils. Tyler Seguin, meanwhile, is not only updated with the Stars, but in fact pictured in the new Stars gear from an off-season press conference.
As has been the case in recent years, each sticker measures 57mm x 81mm. One player from each team is a foil sticker, often the best (or perceived best) player on the team.
Also as has always been the tradition, when you get close to completing your set, you can either trade with friends or order your missing stickers from Panini direct. An order information page is included with each sticker album.
If you have a few minutes, be sure to take the Panini NHL Sticker Collection survey