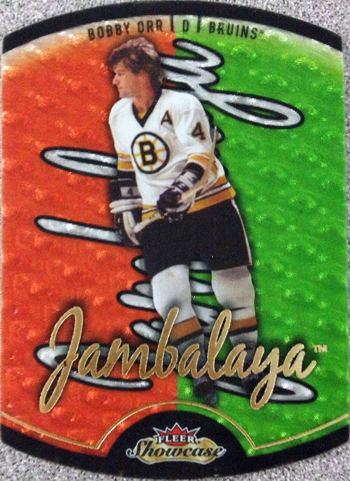 Jambalaya, a popular insert that was introduced 16 years ago in the 1997-98 E-X2001 basketball card series, is back again in an NHL hockey series. The latest rendition is available this month as part of the 2013-14 Fleer Showcase hockey card series.
This marks the fourth time in six years that the Upper Deck Company has included the Jambalaya insert in one of its hockey card brands. Jambalaya hockey was previously included in 2012-13 Fleer Retro and both 2008-09 and 2009-10 Fleer Ultra.
Fleer Showcase hockey is scheduled to be released on Apr. 16. The new series will be sold in five-card packs. On average, a 15-pack box will include a Hot Prospects autograph patch card and two additional autograph or memorabilia insert cards. The Hot Prospects cards are limited to 399 copies or less.
On average, the new Jambalaya hockey inserts are seeded once per case (or approximately 1:180 packs).