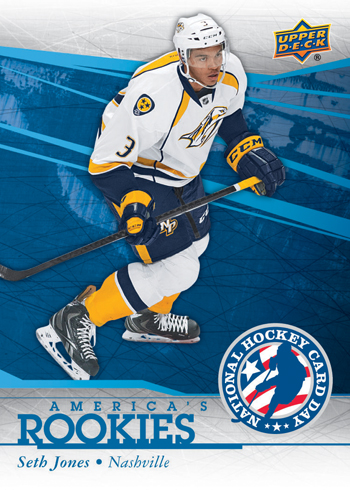 The promotion was pretty simple and pretty fantastic. By simply opening the door and stepping inside a local collector store, hockey fans received free packs of hockey cards. That's right: free, fantastic hockey cards.
The 2013-14 National Hockey Card Day series was collected free at Upper Deck Certified Diamond Dealer stores in Canada and USA. As has been the case since 2011-12, a unique series was collected on either side of the border, with more Canadian players in the Canadian series and more American players in the American series.
From the packs, hockey fans will collect cards 1-20 (plus an unnumbered checklist). As the packs deliver a random collection of cards, hockey fans are asked to trade with their fellow collectors to complete the basic series. (That's right, we traded an extra Steven Stamkos card for a Sean Monahan card).
To finish the series, however, a "hobby exclusive" card #21 was only available from behind the counter, not inside the packs. By simply spending $10 or more on Upper Deck product, you received the bonus card featuring two NHL rookies (again, a different card for either Canada or USA).
Finally, hockey fans were then encouraged to "share exciting photos capturing your National Hockey Card experience (to) score free prize." The promotion encouraged fans to share their photos via Facebook and via Twitter using the hashtag #NHCD.
---