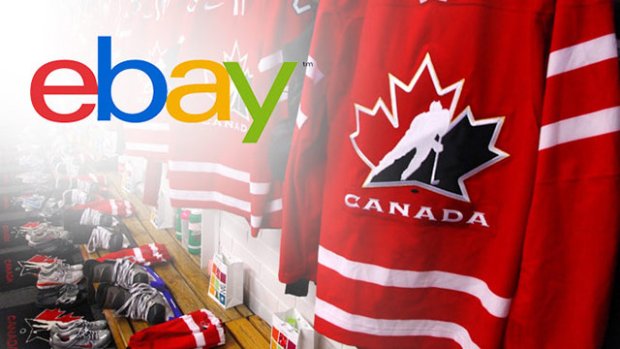 Hockey Canada will launch its 2014 IIHF World Junior Championships auction featuring game-worn jerseys, game-used gloves and game-worn helmets. The auction launches Dec. 30 and runs through Jan. 8, 2014.
The annual auction benefits the Hockey Canada Foundation, "whose mission (will) support Hockey Canada by promoting and fostering accessibility to the game of hockey. Proceeds of this auction will support Hockey Canada Foundation initiatives that help ensure Canada remains at the forefront in the development and promotion of amateur hockey as well as creating access to our game."
The white game-worn jerseys are those worn at this year's tournament in Malmö, Sweden. According to auction details, the white Nike Swift jerseys were worn on Dec. 26, 2013. A letter of authenticity from Hockey Canada will accompany each item.
Hockey Canada has sold game-worn jerseys from the IIHF World Junior Championships for a decade. Ten years ago, the winning bids on some of the 2003-04 gamers were $7,845 for Marc-André Fleury, $5,700 for Sidney Crosby, $2,025 for Dion Phaneuf, and $1,825 for Michael Richards. Incidentally, the smallest winning bid was $635 for the Maxime Talbot gamer.
HOCKEY CANADA GAME-WORN JERSEYS
2014 IIHF World Junior Championship Hockey Canada Josh Anderson game-worn jersey
2014 IIHF World Junior Championship Hockey Canada Chris Bigras game-worn jersey
2014 IIHF World Junior Championship Hockey Canada Jonathan Drouin game-worn jersey
2014 IIHF World Junior Championship Hockey Canada Matthew Dumba game-worn jersey
2014 IIHF World Junior Championship Hockey Canada Aaron Ekblad game-worn jersey
2014 IIHF World Junior Championship Hockey Canada Zachary Fucale game-worn jersey
2014 IIHF World Junior Championship Hockey Canada Frederik Gauthier game-worn jersey
2014 IIHF World Junior Championship Hockey Canada Bo Horvat game-worn jersey
2014 IIHF World Junior Championship Hockey Canada Charles Hudon game-worn jersey
2014 IIHF World Junior Championship Hockey Canada Scott Laughton game-worn jersey
2014 IIHF World Junior Championship Hockey Canada Curtis Lazar game-worn jersey
2014 IIHF World Junior Championship Hockey Canada Tyler Leier game-worn jersey
2014 IIHF World Junior Championship Hockey Canada Anthony Mantha game-worn jersey
2014 IIHF World Junior Championship Hockey Canada Connor McDavid game-worn jersey
2014 IIHF World Junior Championship Hockey Canada Josh Morrissey game-worn jersey
2014 IIHF World Junior Championship Hockey Canada Jake Paterson game-worn jersey
2014 IIHF World Junior Championship Hockey Canada Adam Pelech game-worn jersey
2014 IIHF World Junior Championship Hockey Canada Nic Petan game-worn jersey
2014 IIHF World Junior Championship Hockey Canada Derrick Pouliot game-worn jersey
2014 IIHF World Junior Championship Hockey Canada Griffin Reinhart game-worn jersey
2014 IIHF World Junior Championship Hockey Canada Sam Reinhart game-worn jersey
2014 IIHF World Junior Championship Hockey Canada Kerby Rychel game-worn jersey