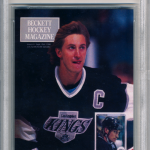 Beckett Media has created four different magazine cards that will be distributed to those in attendance at the upcoming 2013 Industry Summit. The four cards feature the magazine covers from the four first sport titles: Beckett Baseball, Beckett Basketball, Beckett Football and Beckett Hockey.
"Beckett Media is launching its own brand of trading cards on Sunday with a series of four Beckett Covers promo cards that will only be given to a select few collectors," wrote Chris Olds at beckett.com. "A total of just 540 encapsulated cards will be released. All will be encapsulated by Beckett Grading Services for protection and presentation."
A pair of baseball cards were featured on the inaugural Beckett Baseball issue (including a Roberto Clemente card) while large photos of Michael Jordan, Bo Jackson and Wayne Gretzky were featured on the other covers.
Each rare magazine card features a different back. The 2013 Industry Summit runs this coming Mar. 17-20.
GRETZKY HOCKEY CARDS
#4A Hockey/Beckett Back #/10
#4B Hockey/COMC Back #/25
#4C Hockey/Blowout Back #/50
#4D Hockey/ Historic Autographs Back #/50