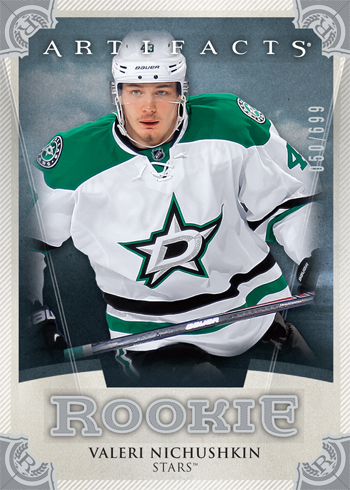 The Upper Deck Company has revealed the player checklist for the 2013-14 Upper Deck Artifacts redemption program. The checklist features both unsigned and signed rookie cards.
"Many fans worked quickly to pick up the rookie redemptions they would need to complete a set and some more courageous collectors even went after the entire autograph set," wrote Chris Carlin via the Upper Deck Blog.
Upper Deck Artifacts was released in October 2013, before the start of the new NHL season. As such, the initial release could not include any rookies who had yet to debut in the league. With the inclusion of redemption (trade) cards, the Upper Deck Company was able to promise ahead of time 'unknown' rookies to their collectors.
"Upper Deck traditionally waits as long as possible before closing off that checklist and moving to production of these cards to allow the company time to include as many mid-season rookie call-ups as possible. Upper Deck's hockey team has now finalized the checklist, the designs are complete and we are moving to the production process to get these cards created," wrote Carlin.
Cards numbered RED201 to RED242 are unsigned while cards numbered I to XXIV are signed.
This year marks the ninth consecutive season of Upper Deck Artifacts hockey cards (every year since 2005-06).
---
UPPER DECK ARTIFACTS
RED201 ANAH Hampus Lindholm
RED202 BOST Carl Soderberg
RED203 BUFF Zemgus Giergensons
RED204 CALG Sean Monahan
RED205 CARO Elias Lindholm
RED206 CHIC Antti Raanta
RED207 COLO Nathan MacKinnon
RED208 COLU Ryan Murray
RED209 DALL Valeri Nichushkin
RED210 DETR Danny DeKeyser
RED211 EDMO Mark Arcobello
RED212 FLOR Aleksander Barkov
RED213 LOSA Linden Vey
RED214 MINW Mathew Dumba
RED215 MONT Michael Bournival
RED216 NASH Seth Jones
RED217 NEWJ Reid Boucher
RED218 NYIS Ryan Strome
RED219 NYRA Dylan McIlrath
RED220 OTTA Cody Ceci
RED221 PHIL Michael Raffl
RED222 PHOE Lucas Lessio
RED223 PITT Olli Maatta
RED224 SANJ Tomas Hertl
RED225 SLOU Dmitrij Jaskin
RED226 TAMP Nikita Kucherov
RED227 TORO Morgan Rielly
RED228 VANC Joacim Eriksson
RED229 WASH Philipp Grubauer
RED230 WINN Jacob Trouba
RED231 TORO Josh Leivo
RED232 COLU Boone Jenner
RED233 TAMP Tyler Johnson
RED234 ANAH Frederik Andersen
RED235 NEWJ Jon Merrill
RED236 NASH Marek Mazanec
RED237 SANJ Freddie Hamilton
RED238 BUFF Rasmus Ristolainen
RED239 LOSA Martin Jones
RED240 MINW Justin Fontaine
RED241 ANAH John Gibson
RED242 DETR Tomas Jurco
I COLO Nathan MacKinnon aut
II SANJ Tomas Hertl aut
III CALG Sean Monahan aut
IV NASH Seth Jones aut
V DALL Valeri Nichushkin aut
VI TORO Morgan Rielly aut
VII FLOR Aleksander Barkov aut
VIII WINN Jacob Trouba aut
IX CARO Elias Lindholm aut
X COLU Ryan Murray aut
XI BUFF Rasmus Ristolainen aut
XII COLU Boone Jenner aut
XIII PITT Olli Maatta aut
XIV SANJ Matt Nieto aut
XV SANJ Freddie Hamilton aut
XVI MINW Mathew Dumba aut
XVII MONT Michael Bournival aut
XVIII BUFF Nikita Zadorov aut
XIX BUFF Zemgus Giergensons aut
XX DETR Danny DeKeyser aut
XXI EDMO Mark Arcobello aut
XXII ANAH Sami Vatanen aut
XXIII CHIC Joakim Nordstrom aut
XXIV ANAH Hampus Lindholm aut