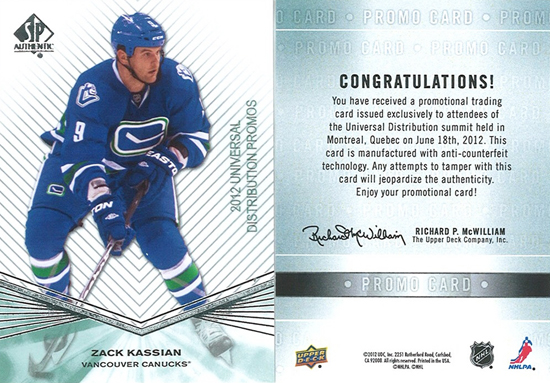 The Upper Deck Company has produced a series of 2011-12 SP Authentic Promo Cards. The 100 promo cards were distributed to Upper Deck Certified Diamond Dealers at the Universal Distribution Retail Summit on June 18, 2012.
MORE FROM THE UPPER DECK COMPANY
The 2011-12 NHL SP Authentic Rookie Extended Series cards have "2012 UNIVERSAL DISTRIBUTION PROMOS" noted on the right side of the cards and also come with a Certificate of Authenticity to further distinguish them from cards in the currently unreleased set. Given the exclusive nature of this event, these cards should be considered very rare. Expect them to be highly sought after, especially with huge rookie names like Ryan Nugent-Hopkins, Gabriel Landeskog, Adam Henrique, Adam Larsson, Sean Couturier, Mark Scheifele and more included in the set!
The Retail Summit is an opportunity for Universal to work with their shops to provide them great new information on upcoming opportunities from different manufacturers and how to be more successful.