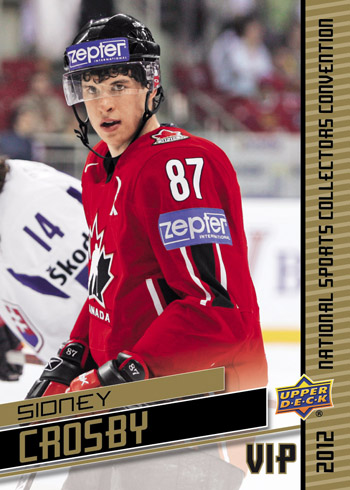 The Upper Deck Company has announced details for its annual National Sports Collectors Convention card set, which will be available this Aug. 1-5 in Baltimore, MD. The promotion includes a six-card "VIP" series on Aug. 1 and four special five-card packs from Aug. 2-5.
The Upper Deck 2012 National Sports Collectors Convention set features 20 players, with cards 1-5 available on Aug. 2, cards 6-10 available on Aug. 3, cards 11-15 available on Aug. 4, and cards 16-20 available on Aug. 5. Randomly inserted in packs are rare autograph cards.
The 20-card Upper Deck set includes four hockey players: Sidney Crosby, Wayne Gretzky, Bobby Orr and Alex Ovechkin.
The other athletes in the series come from the world of baseball (Cody Buckel, John Kruk, Don Mattingly, Jack Morris, David Robertson), basketball (LeBron James, Michael Jordan, Alonzo Mourning), football (Robert Griffin III, Trent Richardson, Roger Staubach), golf (Tiger Woods), lacrosse (Brodie Merrill) and soccer (Dwayne De Rosario, Landon Donovan and Thierry Henry).
As for "VIP Day" on Aug. 1, attendees will receive a special six-card multi-sport Upper Deck VIP set. The set features hockey players Crosby and Gretzky as well as basketball heroes James and Jordan, golf star Woods, and soccer international Donovan.
MORE FROM THE UPPER DECK COMPANY
For starters we have created a very compelling wrapper redemption program for the 2012 National Sports Collectors Convention. Collectors who purchase five (5) HOBBY packs of any of these Upper Deck products from a Certified Diamond Dealer and they will provide you with a special voucher from Upper Deck. Bring that voucher and the packs to the Upper Deck Booth and you will receive one (1) 2012 Upper Deck National Sports Collectors Convention pack in exchange for the voucher and wrappers!
2011-12 NHL SP Game-Used
2012 Upper Deck Football
2011-12 NHL SPx
2011 College Football Legends
2012 SPx Football
2012 SP Signature Edition Baseball
2011-12 NHL SP Authentic
2012 Upper Deck Soccer
Collectors can bring their voucher and packs to the Upper Deck booth beginning at noon each day and packs will be available while supplies last. Stop by the Upper Deck booth before you purchase packs to confirm we still have inventory of these packs. Collectors are limited to claim five redemption packs, per person, per day. There will be a different five card set available each day.
MORE FROM THE NATIONAL
The 2012 National Sports Collectors Convention runs Aug. 1-5 at the Baltimore Convention Center. The show will feature over 600 dealers and distributors and 50 corporate displays in over 350,000 square feet of exhibitor space. The "National" offers a full range of sports, entertainment and gaming cards, collectibles, toys, event-used equipment, and sports and entertainment autographs. For more information, please visit nsccshow.com