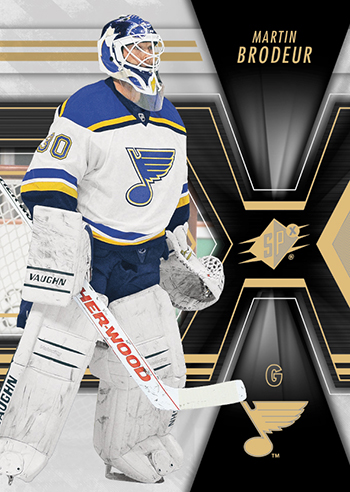 Martin Brodeur's first St. Louis Blues hockey cards will be available in February 2015. The cards will be featured in 2014-15 SPx produced by the Upper Deck Company.
"When Upper Deck heard Martin Brodeur had signed with the St. Louis Blues, we knew it was a moment we had to capture," wrote the Upper Deck Company in early December. "More importantly, we knew we had to get his first cards as a member of the St. Louis Blues out into packs as soon as possible. The Upper Deck photography and prepress teams jumped through a variety of hoops to make his cards Blues available quickly."
This year marks the 19th edition of SPx hockey cards. As part of this year's series, it will include a tribute to the 1997-98 holographic design.
"There will actually be two versions of Brodeur cards with St. Louis available in a base design and a throwback holographic design. Below are the final approved images Brodeur fans should be adding to their "want lists" now."