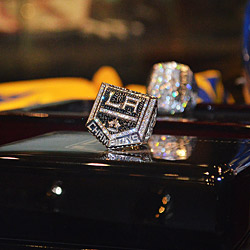 The Los Angeles Kings have donated a 2014 Stanley Cup championship ring to the Hockey Hall of Fame. The presentation was made in Toronto on Dec. 13, 2014.
A similar presentation was made last year by the 2013 Stanley Cup winners, the Chicago Blackhawks.
MORE FROM THE HOCKEY HALL OF FAME
Kings President, Business Operations, Luc Robitaille and stars Anze Kopitar and Dustin Brown were on hand to make the donation on behalf of the Los Angeles Kings organization. The ring was added to the Stanley Cup Championship Ring Display in the NHL Zone at the Hockey Hall of Fame.
The ring is featured in a display celebrating the current and past Stanley Cup champions, including the first-ever Stanley Cup ring (1893) Billy Barlow (MAAA); Bill Hay's 1961 ring (CHI); Daryl "Doc" Seaman's 1989 ring (CGY) and Bob Johnson's 1991 ring (PIT). The display also contains rings from the 2007 (ANA), 2008 (DET), 2009 (PIT), 2010 (CHI), 2011 (BOS), 2012 (LA) and 2013 (CHI) Stanley Cup Champions, which were all donated by the owners of the teams.