Show's 32nd year
Promotions by In The Game, Panini America and Upper Deck Company
Aug. 3, 2011
Hockey Cards & Memorabilia: 2013-14 | 2012-13 | 2011-12 | 2010-11 | 2009-10

In The Game produced a 10-card special set available exclusively to VIP ticket holders for the 2011 edition of the National Sports Collectors Convention. The set features athletes from its hockey and baseball brands as well as personalities from its Canadiana brand.
READ MORE : ITG announces National VIP set
---
Panini produced special cards featuring its Donruss Elite, Donruss and Score designs. The cards feature athletes from its hockey, basketball and football brands as well as personalities from its entertainment brands.
READ MORE : Panini reveals National redemption cards
READ MORE: Panini unveils National Phenoms
---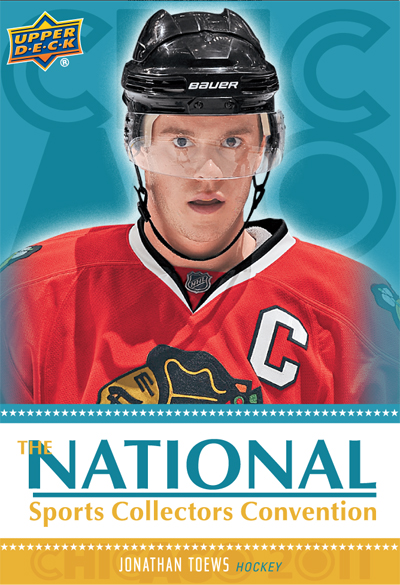 The Upper Deck Company produced a six-card multi-sport set for VIP ticket holders at the National Sports Collectors Convention. It also produced a regular "public" multi-sport series that was distributed via a wrapper redemption program each day of the show. Included in the mix of the "public" series was several autographs.
READ MORE : UDC announces National plans
Search for other hockey collector brands:
---
2011 In The Game National VIP
Hockey cards by In The Game (Aug. 3-7 in Rosemont, IL)
IN THE GAME
Mario Lemieux
Patrick Roy
Steve Yzerman
Mark Messier
Tim Thomas
Steven Stamkos
SPORT KINGS SERIES D VIP
11 Joe Sakic
14 Bernie Parent
..
---
2011 Panini America National
Hockey cards by Panini America (Aug. 3-7 in Rosemont, IL)
DONRUSS ELITE
WASH Alex Ovechkin
CHIC Dustin Byfuglien w/ Cup
NEWJ Martin Brodeur
TAMP Steven Stamkos
BOST Tim Thomas
PITT Sidney Crosby
1st parallel: 25 copies
2nd parallel: 10 copies
3rd parallel: 5 copies
DONRUSS ROOKIES
ANAH Cam Fowler
EDMO Taylor Hall
BOST Tyler Seguin
MONT P.K. Subban
CARO Jeff Skinner
HEADLINERS
BOST Stanley Cup champions
SCORE TEAM COLORS
CHIC Jonathan Toews
CHIC Patrick Kane
PANINI PHENOMS
aut BOST Zach Hamill
aut BOST Tyler Seguin
aut EDMO Jordan Eberle
aut EDMO Taylor Hall
aut EDMO Magnus Pääjärvi
aut FLOR Jacob Markström
aut LOSA Brayden Schenn
aut NYRA Ryan McDonagh
aut NYRA Mats Zuccarello
---
2011 Upper Deck The National
Hockey cards by the Upper Deck Company (Aug. 3-7 in Rosemont, IL)
UPPER DECK NATIONAL VIP
Sidney Crosby
Wayne Gretzky
Bobby Orr
UPPER DECK NATIONAL
Wayne Gretzky
Jonathan Toews
More TBA
AUTOGRAPHS
aut Bobby Orr *25
aut Gordie Howe *9
aut Jeff Skinner *35
aut Jonathan Toews *19
aut Sidney Crosby *25
aut Tony Esposito *10
aut Wayne Gretzky *9