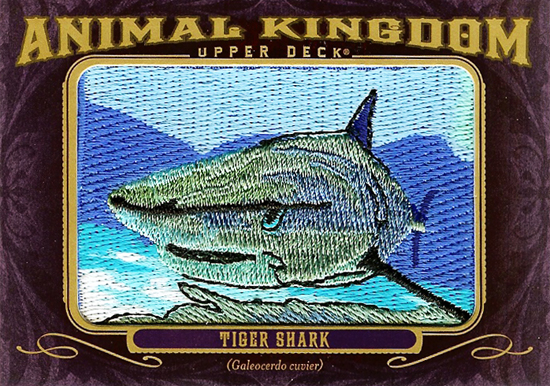 Last Monday, we debuted a column entitled "They Should Make," a new feature that will serve as our weekly 'wish list' of hockey cards and collectibles we would like to see produced.
Just a few days before it came time to write our second column, well… let's just say an idea hit us like a flying shark spinning out of a tornado.
Yeah, you watched it: Sharknado. So too did the crew at the Upper Deck Company, who made light of the instant "cult hit" while simultaneously encouraging collectors to pick up the newest Animal Kingdom shark cards in 2013 Goodwin Champions (which debuts this Tuesday).
Wrote Chris Carlin via the Upper Deck Blog, "the response was extremely positive for this hokey story about a tornado casting hungry sharks at residents of Los Angeles."
Sure, Chris, wait until they swim south to Carlsbad, San Diego and Tijuana. I don't think any padres or xoloitzcuintles will save you then.
We digress. In returning to Chris Carlin's piece, we quickly misread "hokey" for "hockey," which could have made sense considering the Sharks play north of the Fin (cult "bar" in Los Angeles) at the Shark Tank (hockey arena in San Jose). Maybe, just maybe, the Upper Deck Company was considering a subset of Sharknado hockey highlights for their next trading card series.
You know, like in 1994 when Igor Larionov and the third-year Sharks knocked off the Central Division champion Red Wings in the opening round. Or a year later when Ulf Dahlén helped the Sharks knock off the Pacific Division champion Flames.
How about in 2000 when Owen Nolan helped the eighth-seed Sharks upset the Presidents' Trophy-winning St. Louis Blues in the opening round. Yeah, look it up, I bet Hart Trophy winner Chris Pronger knows all too well what it feels like to be at the end of a Sharknado.
Sure, we're having a little fun with our article this week, but truth be told, there are endless possibilities when it comes to Sharknado hockey ideas. Even the St. Louis Blues have suggested that they have once authored a sharknado in an NHL playoff series (see tweet below).
So, in the words of Carlsbad's finest, "if you are (ever) looking to capture the ocean's deadliest predators, (be sure to) find them in Upper Deck products!"
Or, to quote (another) television writer Damon Lindelof (who, if Thunder Levin lets him, could always bring Sharknado 6 to the shores of Lake Ontario or to world-famous and historic Rideau Canal):
You folks who insult "Sharknado" have clearly never lived through one. Respect, People.

— Damon Lindelof (@DamonLindelof) July 11, 2013
Yeah, respect, people… 'enough said!'
@StLouisBlues We heard it was about a science fiction movie on television, not a playoff game from two years ago.

— San Jose Sharks (@SanJoseSharks) July 12, 2013
---
SIDEBAR: For those that love (real) sharks, please be sure to visit Epic Underwater for some
terrific marine life footage from the animal kingdom.
Here's a shot from my trip last month to Guadeloupe for the White Sharks. Frame grab from Red Epic. pic.twitter.com/pKUTZfEG

— Epic Underwater (@EpicUnderwater) October 10, 2012